Eyelash Extension Training Houston
LuminLASH is the top-rated and award-winning Eyelash Extension studio. We pride ourselves in technique, proficiency, and NO. 1 customer service. After seeing many lash stylists come in and out of our doors, we wanted to make sure the proper technique is taught and make sure students are confident to go out in the world. All while keeping prices low so everyone can have the opportunity to learn.  Before starting training, students commit to train for 5 days in order to absorb quickly and create great results from the lessons. Learning eyelash extension does not take much time, but to master and become eyelash extension expert, You must regularly practice, learn, and draw experience for yourself. Along with the virtue of inquisitiveness and hard work is essential for an eyelash extension specialist.
We are proud to share that, not only we are the best studio for eyelash training in Houston city, state-wise also we are the best studio for eyelash extension training in Texas. Lumin Lash is the perfect spot for "Eyelash classes in Houston", or "Classes for EyeLash Extensions near Me" in various regions such as Missouri City, Rosenberg, Fulshear, Texas.
Course Content:
Method:
Basic and advanced eyelash extension:

Classic Lashes (One by One),

Volume Fans (2D-6D)

Bottom Lashes.
Modern eyelash extensions:
Wispy Volume (Spike + Volume 2D-4D)

Hybrid (Classic + Volume 2D-3D)

Mega Volume (10D-16D)
Design
How to choose the type of eyelash extension to suit your client's eye shape

Natural Eye,

Open Eye

Cat Eye

Doll Eye
Equipment
Support tools and how to use them in the process of eyelash extensions, eyelash curling (Glue, Tweezers,..)
Consultation
How to distinguish eyelash types, eyelash size, and curvature
Lash Removal
The technique of removing eyelashes and eyelash extensions does not cause pain, stinging, and itching for customers when connecting and during use.
Tips and Tricks
The secret to know in eyelash extension technique is to be beautiful and fast, and how to preserve eyelash extension for a long time.
Aftercare
How to advise customers to take of eyelashes after application
Social Media Marketing
Instructions for taking pictures to create after effects and advertising to find customers for eyelash extensions for the first time.
Lumin Lash Training in Houston
Lumin Lash training in Houston is the only Authentic and practical program developed that allows student to learn and participated in a live working studio. Highlights of the training:
Both In-person or Online Training
Manual Seminar Skills Training
Free Access to Marketing Materials & LuminLASH Products
Great Return on Investment Opportunity
Certification For Eye Lash Training Houston
The application of eyelash extensions is a highly technical and meticulous process requiring well-trained professionals to perform the procedure. Unlike traditional false eyelashes, which are applied as a single strip and last only a couple of days, Lumin Lash Eyelash Extensions are individual, synthetic extensions singularly bonded to each natural lash to create a longer, thicker more glamorous lash look. Consequently, Lumin Lash trained professionals are instructed with the industry's most comprehensive training course for the most efficient and effective application techniques. Now you can confidently say that your search for the best studio for "EyeLash Extension Training Near Me" is over now with Lumin Lash eyelash training Houston!
Gain Professional Credentials Through Lumin Lash Certification
Lumin Lash training is the leader in lash extension industry education. It has been created by an award-winning international master trainers with over 20 years of experiences. Benefits include:
Highly regarded among cosmetologists, estheticians and makeup artists
Help increase your clientele to promote salon or spa visibility
Unique instruction which guarantees longer lasting lash sets
Assists in creating a set of lashes that are twice as durable than competing technologies
Solves primary challenge experienced in many trainings – slow application time
Reveals techniques and tips for halving time spent on application
Location:
Lumin Lash Cross Creek Ranch
6630 FM 1463 Suite 700, Fulshear, Tx, 77441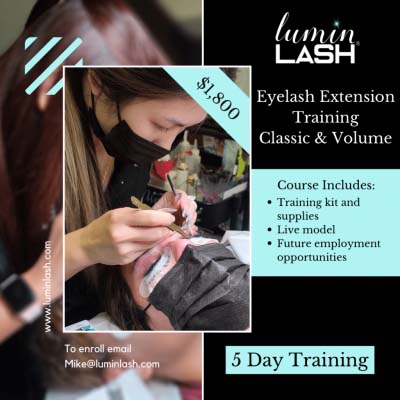 For More Information Please Contact:
Director of Training:              
Mike Mojica  
Mike@luminlash.com   
Senior Instructor:               
Rachel Nguyen  
Rachel@luminlash.com   

5710 Hwy 6 Suite S, Missouri City, TX 77459

346 341 7909

info@LuminLash.com